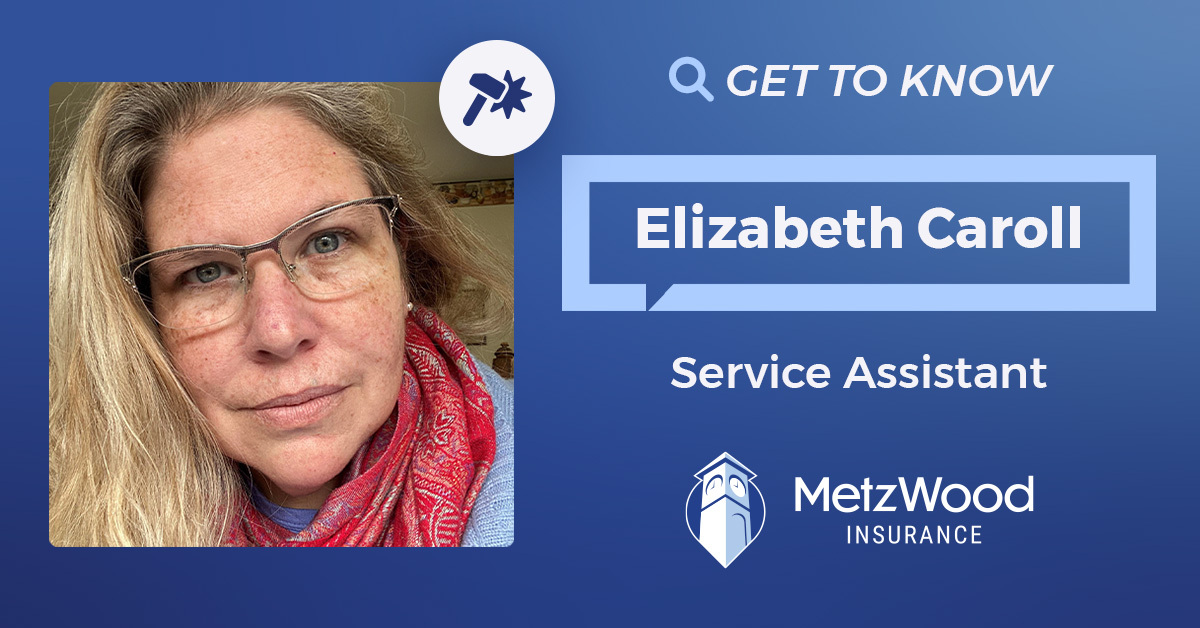 Meet service assistant Elizabeth Carroll! As a service assistant, Elizabeth helps our clients with their business, worker's compensation, and disability insurance needs. She is working on her CISR (Certified Insurance Service Representative) designation to grow her knowledge of commercial lines and further assist our clients.
Elizabeth had a lengthy career working with horses and as a blacksmith before coming to MetzWood and is still passionate about horses and her community.
What drew you to work for MetzWood Insurance initially?
For me, the positive and welcoming atmosphere met me at the door when I first came. Also, the sense of community and working not just for others, but with other businesses and people as well as giving back to the community. I love my job. I love the challenge of commercial lines and could not ask for better coworkers.
What's one piece of advice you'd give to someone shopping for different insurance policies?
Be sure to find an agent who understands your needs, whether for your business or personal home. I would also recommend the agent have several markets available to tailor your policies to your specific needs.
If you could travel anywhere in the world, where would you go and why?
I would love to go to Australia to dive into the Great Barrier Reef and see an opera in the Sydney Opera House.
Tell us something you're passionate about.
Working with horses. I have been around horses all my life. From as far as I can remember I would meet my grandmother at the barn and feed horses, muck stalls, groom horses, clean tack, mend tack, and then if I was lucky, I would get to ride. I was taught at an early age that if you want something, you have to work for it and earn it. When I was 12, I got my own horse, and the rest is history.
When I graduated from college, I decided to start my own horseshoeing business. I also taught riding on the side and became an adjunct faculty to Teikyo Post University and taught several upper-level Equine courses. I was a blacksmith for more than 20 years. It was awesome. The kids got to be with me, outside and working with the animals as I shod the horses.
How did you go from horses to insurance?
When my younger boys started school, I went back to the workforce at a local bank where I ended up becoming the commercial loans manager. When the bank was bought out, I was approached to come work at MetzWood, and it just felt right after my interview. It felt like I was coming home again.
You mention being a blacksmith in addition to working with horses. What was it like doing that while balancing parenthood?
I was lucky while blacksmithing and had some amazing clients. As I started my family, my clients insisted I bring the kids with me. It was awesome being outside with the kids and working with the animals as I shod the horses. They would help collect eggs or feed chickens and other farm duties depending on the client. Once the fourth and fifth child came, it became too difficult to bring all of them with me, so I stayed at home for a few years before heading back to the workforce.
What causes or charities are important to you?
I support STRIDE, COARC, Marion Stegmann Fund, and the Backpack Program at Ichabod Crane Central School District. I have 5 boys and my two youngest are on the Autism spectrum. STRIDE is such a wonderful organization that helps kids and adults with developmental and other disabilities to learn and do sports such as swimming, ice hockey, and skiing.
Learn more about MetzWood Insurance and give us a call at (518) 392-5161 to lock in an insurance policy that meets your needs!

Share This Article